SNOO Bear is a cuddly teddy bear that brings your little one's favorite responsive white noise from SNOO. Here is how you set up the white noise to be just what your baby or toddler needs.
Time Limit for White Noise
SNOO Bear will play white noise for 30 or 60 minutes when you first press play. This will allow your little one time to fall asleep. After this time, SNOO Bear will listen for 3 additional hours and will begin to play white noise when your baby or toddler fusses, helping soothe them back to sleep.
You can adjust the time limit for the white noise on the module inside SNOO Bear: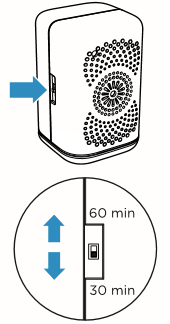 Controlling the White Noise
Your SNOObear can be controlled by pressing the two buttons located on the sides of the sound module inside the bear. Button A is positioned on the opposite side of the timer switch, and button B is on the opposite side of the speaker.
When you place the module inside the bear, position it to have button B facing the front of the bear, and button A positioned towards the bear's right side.
Play: Press the A button once
Stop: Press the A button twice
Cycle Volume: Hold the A button for 3 seconds
Skip White Noise Track: Press the A and B buttons at the same time